UEFA has announced the agreement it has reached with several clubs that failed to comply with Financial Fair Play, which total fines of 172 million. They are obligated to pay 15% of it and if they continue to fail in future reviews, they will have to pay the full amount.
PSG was hit hardest by the penalty, with a fine of €65m, although now he has to pay only €10m (15%). However, it is considered a great deal given the strength that Al-Khelaifi has gained in European football recently, particularly due to his status as president of the European Football Association and a member of the UEFA Executive Committee.
UEFA says: "Chamber One of the CFCB has entered into conciliation agreements with eight clubs that have accepted a total of €172 million in fines, set targets and conditional and unconditional sporting restrictions over the next few years."
The clubs with which the Chamber reached an agreement are Milan (Italy), Monaco (France), Roma (Italy), Besiktas (Turkey), Inter (Italy), Juventus (Italy), Marseille (France), Paris Saint-Germain (France).
The analysis covered fiscal years 2018, 2019, 2020, 2021 and 2022. Fiscal years 2020 and 2021 were subject to emergency measures due to Corona aimed at neutralizing the negative impact of the epidemic.
interrogation with Barcelona
Two other teams were under investigation and would have incurred another penalty, among which, according to The Times, FC Barcelona. However, according to the UEFA notification, there is no economic agreement between the Chamber that regulates fair play and the Blaugrana club and therefore the Catalan club has been acquitted and there are no fines imposed on it.
"The agreed amounts will be deducted from the income earned by these clubs from their participation in UEFA club competitions or paid directly. Of this amount, 26 million euros (15%) will be paid in full, while the remaining balance of 146 million euros (85%) is conditional on these clubs achieving the goals set in the respective agreement.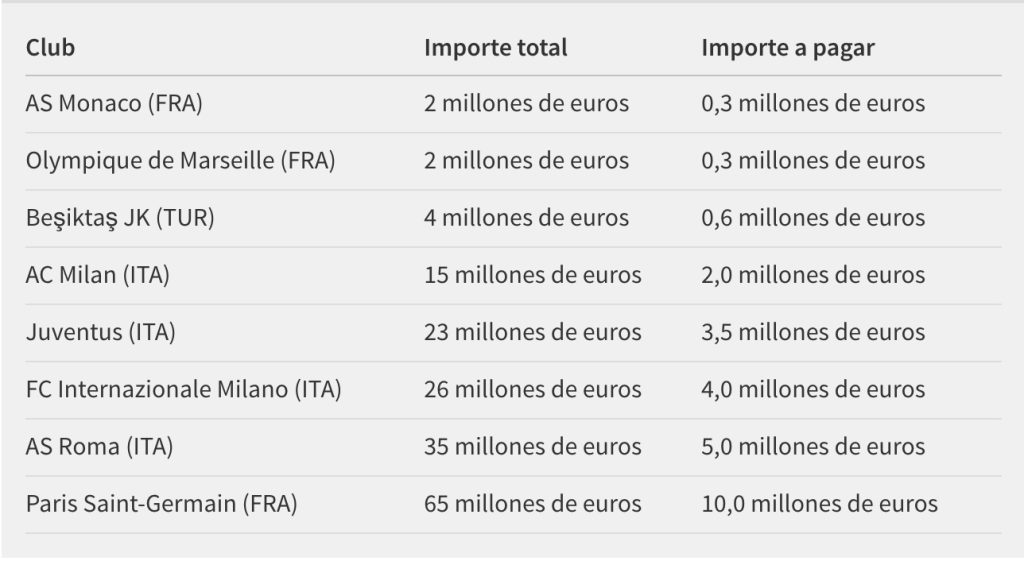 Source: AS